Grand Case
The culinary capital of the Caribbean
Grand Case, a former fishing village situated on the north coast, is today known as the "culinary capital of the Caribbean". Along the boardwalk one will find an array of restaurants and bistros that are not at all inferior to their counterparts in continental France - not only in quality, but also in price. The fare available ranges from West Indian lolos - grills - to sophisticated restaurants with French and international cuisine. Grand Case is at its liveliest in the evenings. Every Tuesday night during peak season there is a street festival with stalls, music, art - and food of course.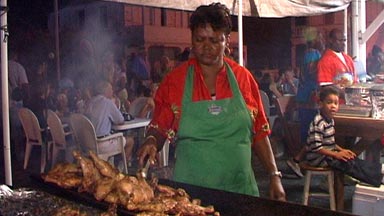 Lady at the lolo (local restaurant)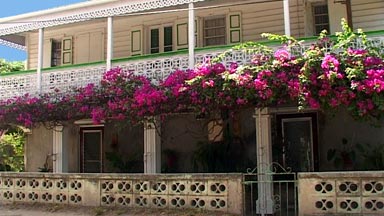 Beautiful Caribbean house
Even though Grand Case is of tourist interest, not only because of the dozens of restaurants, the atmosphere stands out from that of most places on the Dutch side. The people of Grand Case have successfully ensured that buildings and streets of the area are not given up in favour of tourism. Thus the place retains a very original appearance. There is deliberately no cooperation with the cruise ship lines. The targets are tourists who stay on the island for a longer time and who show more of an interest in Caribbean culture.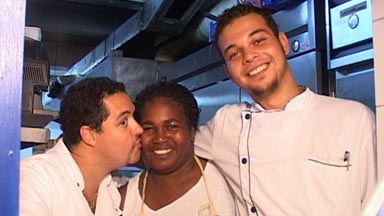 C'est la vie!
Grand Case is also a good example of uncomplicated coexistence of "black and white". While some other places on the island may admittedly be assigned to the one or the other skin colour, here everything mixes - and it is working very well. "C'est la vie" is what they say here, and this simple phrase perfectly captures the spirit of Grand Case.
Related person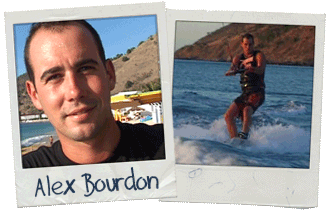 It was a vacation that brought Alex from his native country France and his home in Canada to Saint Martin. He was so taken with the lifestyle in Grand Case that he has now been working there for several years as a waiter. Thus, he is able to work in the sunshine, live in a quarter where the colour of your skin does not matter and he can enjoy his beloved water sports just outside his front door.
Related links