Saint Martin
Two nations, one island
Sint Maarten - or Saint Martin -, the island in the north of the Lesser Antilles is a unique place. It is the smallest island in the world on which two different countries exist side by side - completely without any fences or border controls, only with signs saying "Welcome".
Named "Soualiga", "Land of Salt", by the Arawak Indians from South America because of its numerous salt ponds, the island was sighted by Columbus on November 11th, 1493, the feast day of Saint Martin of Tours - hence its name. The island was already divided in 1648, more than 350 years ago. While the colonial powers were still fighting bloody wars on the neighbouring islands, Holland and France agreed on a peaceful existence with free port status. According to legend, the boundary was set by a walking competition around the island. On the way the Dutchman's gin was taking its toll, forcing him to leave the bigger part of the country to the Frenchman, who was naturally drinking red wine.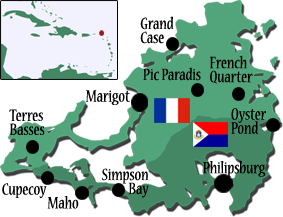 All the places referenced in this map of SXM are featured in our documentary film St. Maarten - St. Martin: Island Fever.
Initially full of plantations, Sint Maarten sunk into a depression in the middle of the nineteenth century which was to last until 1939, when eventually all import and export taxes were abolished. In the middle of the fifties, the realisation grew that tourism could become one of the main sources of income for the island. Supported by the rapid construction of casinos, shops, hotels, a deep water dock for cruise ships and an international airport and helped by a boom in the yacht charter business, a strong tourism industry developed. Just like the economy, the population grew. Currently, Sint Maarten has about 78,000 inhabitants.
A desire for better working conditions still attracts people from other Caribbean islands, while Americans and Europeans are drawn to Sint Maarten by the abiding dream of "dropping out". On only 96 square kilometres locals, immigrants from over 120 nations as well as tourists leave their personal mark on the island. And although this may make Sint Maarten not "typically Caribbean" anymore, it creates a multi-lingual, multi-national and multi-coloured microcosm with a lot of contrasts. Massive luxurious villas in Terres Basses border on shaky huts in Sandy Ground, and the touristy hotels, restaurants and casinos meet traditional Caribbean gingerbread houses in the two capitals Philipsburg and Marigot. Relaxed hiking in the almost unspoilt hills of the French interior country stands against the nightlife of the Dutch side.
Important issues the island is facing at this time include crime, mass tourism, overdevelopment and decreasing room for historic heritage and unspoilt nature.
Featured persons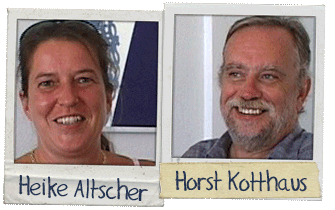 Originally from Berlin, the family ended up in French Quarter, where they are every day confronted with the problems so typical of the island. They earn their living through flying, conducting tours around the island with cruise passengers, and the running of a German restaurant in one of the natives' quarters.
More information
Places featured in St. Maarten / St. Martin: Island Fever
---