Marigot
Historic town with French flair
Marigot is the capital and economic centre of Saint Martin, the French part of the island. It is laid back and elegant, and rather quiet compared to Philipsburg. Unlike its Dutch counterpart, Marigot appears to be much more original and its flair is reminiscent of a small village on the Mediterranean coast. Small cafés and bistros are situated next to classy brand stores offering the latest in European fashion design. The picture is completed by the ubiquitous jewellers and electronics shops. However, after opening hours and on Sundays the town is almost deserted.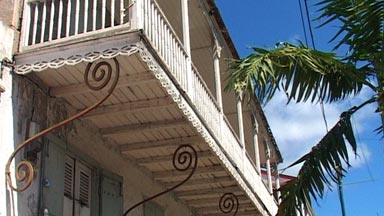 Creole house in Rue Général de Gaulle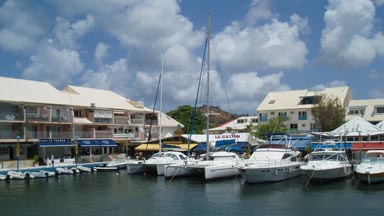 New part of the town: Marina Royale
Even though it is not a big city, Marigot possesses two centres. One of these is the quarter around the harbour with the market place and the ferry dock. It becomes the scene of a colourful market on Wednesdays and Saturdays where a lot of homegrown produce, tropical fruits, spices and freshly caught fish are on offer. The second centre spreads around the very touristy Marina Port La Royale which is surrounded by several restaurants. The busy Rue du Général de Gaulle is the main road. Marigot is a historic town undergoing change. There are still some West Indian style buildings with ornamental carvings and balconies, but a lot of these houses have had to make way for new buildings.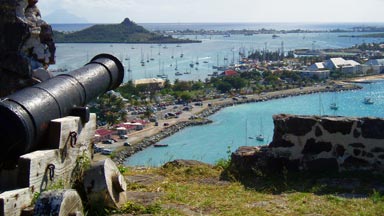 Spectacular view from Fort Louis
Saint Martin's biggest historical monument, Fort Louis, stands guard over the town. Naturally the fort does not serve its original purpose anymore today, but taking the steep path up is rewarded with a panoramic view over town, the island and the surrounding sea area.
Related persons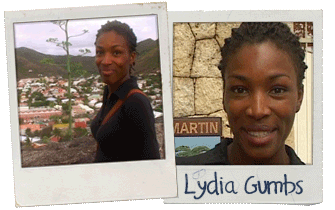 Lydia was born in Saint Martin and has just established her own business - an advertising agency. In her charming and entertaining manner she knows a lot about Marigot, and, as a true native, naturally also much about life on the rest of the island.