Terres Basses
Pretty private peninsula
Terres Basses is west of the small promontory around Simpson Bay. At the end of Marigot Bay Saint Martin's most unknown sight, Bluff Point, rises out of the water. Like some sunken antique building, a few structures peer out above the surface. They remind of the time when the place was still home to a lighthouse and a quarantine office. It was supposed to protect Marigot from imported contagious diseases. The foundation walls are still left, but a closer look will reveal little of interest.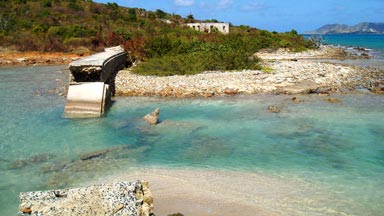 Pointe du Bluff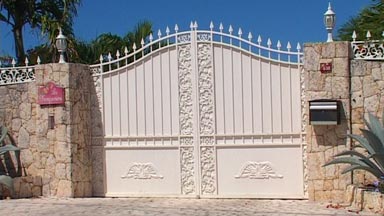 Hitherto shalt thou come, but no further
For a long time, Terres Basses itself used to be an almost uninhabited peninsula with only a few huts. However, the land caught the eye of one ingenious American who happened to sail past, and he bought it for some ten thousand dollars. He divided the area into single lots and sold them for a few hundred thousand dollars more. Who or what can be found behind is mostly kept secret. What is known is that there are villas in the most different styles, with one or more swimming pools, guarded by one or more dogs of a sometimes more, sometimes less friendly nature.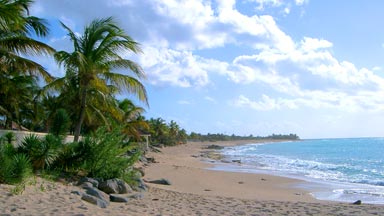 Plum Bay, one of the few unspoilt beaches left on the entire island
What they all have in common is the owners' desire for privacy. The seclusion has turned out to be a blessing for the adjacent beautiful beaches. Building is controlled and commercial activities are prohibited. Every visitor wishing to go here is advised though to do so before the evening, when the peninsula's very own security service takes its barrier-equipped control posts into operation.
Related persons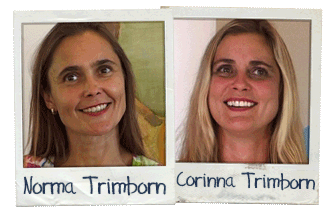 After more than 20 years apart, the German sisters arrived from New York and Hamburg respectively to be finally reunited in Saint Martin. Here they cherish the quietude of the Terres Basses and their studio in the open. They are able to dedicate themselves to their ambitious painting almost without interruptions.
Related links