Maho
Mini Las Vegas for package tourists and aviation fans
Everyone who approaches Sint Maarten's international airport "Princess Juliana" from the air will be able to disprove at first hand a conspiracy theory that once proved persistent on the internet. It is indeed true: jumbo jets really do fly just a couple of metres above Maho Beach crowded with mostly American tourists to touch down on the runway just behind the beach.
World Famous Maho Beach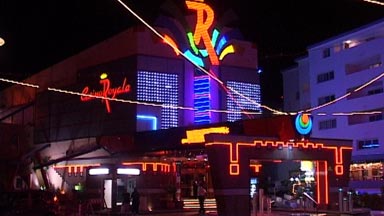 Maho Plaza with Casino Royale
Another theory cannot be disproved so easily though: the theory that some of the tourists do not (and do not want to?!) see anything of the island during their whole stay except for this hardly characteristic, most Americanised part of Sint Maarten. And yet this would not be too surprising, after all the Maho resort offers everything a typical tourist would expect - in walking distance. Next to the hotels is Maho Plaza with shops, restaurants, casinos and shows - a miniature Las Vegas. This area and the neighbouring Caravanserai Resort are home to the "hippest" clubs of the island as well.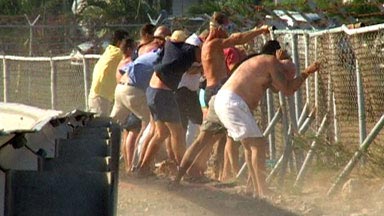 Tourists getting blasted
However, the meeting point of the plane spotters is the famous "Sunset Beach Bar" on the beach at the end of the runway. A real aviation lover plans his whole vacation around this attraction, which is certainly worth seeing. The particularly hardcore hold on to the fence during take-offs and face the blast. Definitely a case of "matter of taste", just like the whole Maho area.
Related persons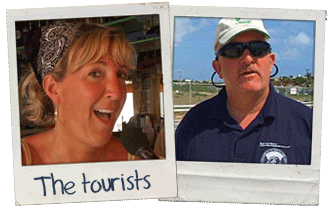 They have come to spend their vacation in St. Maarten and can predominantly be found in Maho. Some of them fulfill the stereotype of not being really interested in the island, its history and characteristics. They are pleased as long as they have their fun, the service is right and the planes land and take off on schedule.
Related links