Simpson Bay
Amusement strip with mega yachts
Simpson Bay is the name for both a residential area and the island's biggest lagoon. Providing two entrances to the ocean and numerous marinas sheltered from wind and waves, the lagoon is almost ideal for anchorages. Since the expansion of the bridge a couple of years ago, mega yachts have been able to enter as well. With daily flight connections to Europe and North America, Simpson Bay has become the Caribbean centre of the booming charter yacht industry.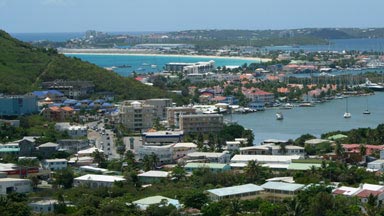 Simpson Bay seen from Cay Hill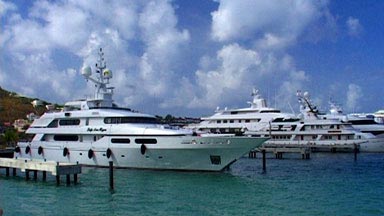 Motor Yachts at Simpson Bay Marina
The eponymous area is mostly an amusement strip for tourists and yachties on shore leave. There is an array of bars, restaurants and discos. Much less amusing, particularly for the locals, are the inevitable traffic jams that occur in this bottle-neck during the busy season.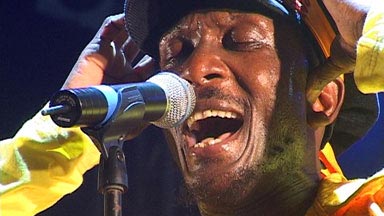 Jamaican reggae legend Jimmy Cliff performing at the Heineken Regatta
The area in and around Simpson Bay in particular, together with the whole island, becomes a centre of intense activity during the annual Heineken Regatta at the beginning of March, the main event in Sint Maarten. Staying faithful to its slogan "Serious Fun" you will see hard sailing for places in the various competitions during the day, and hard partying at the big events and concerts at night.
Developed only 20 years ago, Simpson Bay may be everything but originally Caribbean, but everyone who wants to party in Sint Maarten or wishing to meet a number of colourful characters among the yacht crews and tourists from all over the world will be unable to avoid this location.
Related persons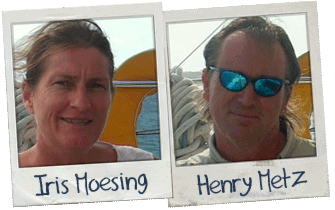 Iris and Henry crossed the Atlantic in their small boat in 1986. Their idea was to earn a living in a somewhat different way. Thus, they are active in the charter yacht business with their own sailing yacht Shaitan of Tortola and have experienced the rapid development of this industry, and particularly the nascent of the area around Simpson Bay, at first hand.
Related video